Antoine Monmarché (Monch)
Photo
Presentation
I've been searching for the human nature – its fundamental questionings, its doubts, its expressions – in the random forms of the photographed things and their mix. It is an innate work based on instinct.
I like to tame the accident in a process that wants to get out of comfortable art.
I do not wish to impose anything. The meaning that I put into my images, whether conscious or unconscious, must fade away to make way for each person's feelings.
From the aesthetic point of view, my photographic work leads to a result close to painting, drawing and engraving. I like to cultivate ambiguity about the real nature of the support I used. As a result, the public often wonders and gets confused.
This ambiguity, combined with a unique personal writing, emphasizes the strangeness, the poetry and the emotion that I wish to convey in my images.
I like this trend of erasing the technicity to highlight emotion while voluntary creating ambiguity about the nature of the work.
Technique
Photographic painting. The photographic element is used as a source, like a painter uses his painting palette.
Digital composition and drawing work based on personal photographs of materials and portraits, with the use of a graphic palette.
No software artifice or effect filters are added to the images. The use of digital is reduced to composition, drawing, mixing, overlaying, distorting, cropping, erasing etc. No material nor lines or colours are generated by digital technology, they are just pure captured elements.
The drawing and the line are only obtained by darkening or lightening the existing photographic material.
No intervention is made to the support after printing.
Bio
Paris, 1964… After nine months of intrauterine training, without even waiting for the relative comfort of a delivery table, I put my head out… in the lift of a maternity clinic!
I came to the world by myself. This self-taught spontaneity is a feature that will characterise me later on. As the son of an artist and art collector, my childhood was steeped in an artistic universe. I absorb. I had a deep admiration for my father but overwhelmed by his talent and his very important ego, I unconsciously forbade myself to create. Instead, I worked in various professional activities in the show business, travelled a lot and did some humanitarian work until my father died when I was in my forties. A professional break and a retreat were essential. It is from that time that my first creations came to life, as a relief. An unconscious barrier had finally broken and, freed from the paternal judgement, a bulimia of art invaded me. Creation quickly became my second nature.
Encouraged by the warm welcome of a growing public, it came to me as an evidence, that in the second half of my life, I would be the artist that I had forbidden myself to be for too long.
Photo ©P-M Armand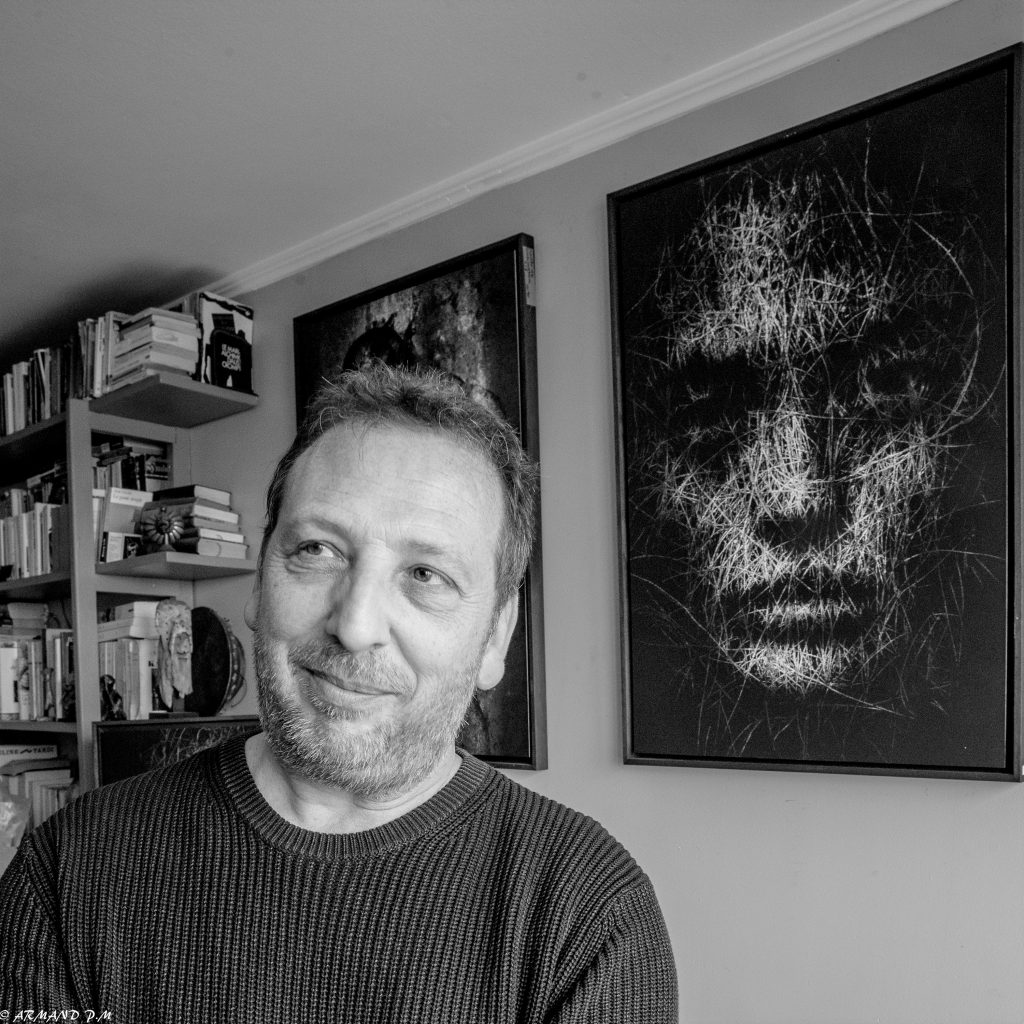 ---
Available artworks
---
Related exhibitions