Jean Yves Gosti
Sculpture
Born in 1960 in a labour class environment, his education destined him to be an electromechanician. While preparing for his BEP, he was remarked by his drawing teacher who encouraged him to study art.
Once his BEP was obtained, he spent five years at the Ecole Nationale Supérieure des Arts Appliqués et des Métiers d'Art in Paris. There, for his teachers and classmates, he could only be a sculptor. He followed a classical curriculum, gradually approaching all the aspects and techniques of sculpture through internships. He began to exhibit at this time, but the success which took away his best pieces did not allow him to present convincing works for the Beaux-Arts entrance exam and his application was not retained.
Gosti is born under the sign of fracture. His CV, structured around break-ups and the loss of loved ones, is quite significant in this respect. Each time, the man rebuilds himself from scattered pieces, from different stories, without being able to reach a total coherence. No wonder then that his characters are so similar to him. They emerge from a burst of material, display their fractures, marked by scars and scarifications.
They all seem to come from the unlikely combinations of salvaged pieces, scraps from previous adventures. The bronzes themselves make no exception to the rule, as if the ductility of the liquid metal had the sole aim of keeping the different fragments of the initial construction coherent and preserving an imprint of them. At the end of this hypothetical process of rebirth, Gosti's figures convey an image of softness and tenderness in contrast to the harshness and hardness of the materials they are made of.
Their gaze marks the astonishment of still existing after so many avatars. And this is where the artist's magic operates. A work by Gosti does not stare, does not threaten, does not judge. It seems to know and understand the most intimate sufferings of the viewer, as it has already lived through so much. Beyond the fracture of the material, it is the fracture of souls that Gosti addresses.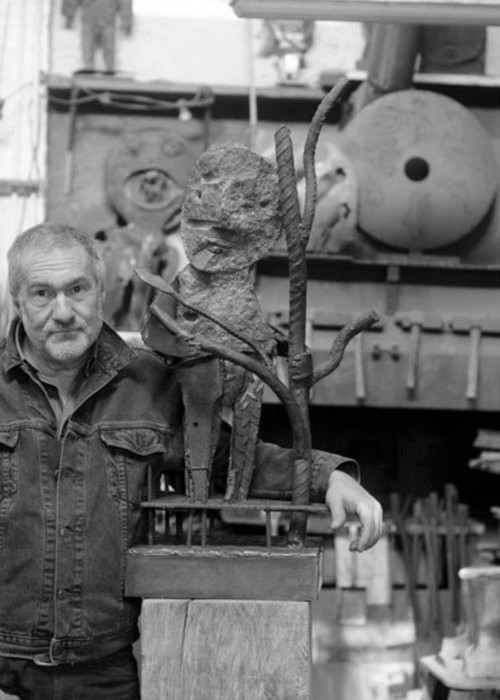 ---
Available artworks
---
Related exhibitions